WHS Sophomores made a visit to the Van Buren Tech Center today! Lots of fun and learning was had by all!
This week, South Elemenary School is recognizing Mighty Panthers Jacob Headen, Makayla Goss, Emma Napier, Mason Spear, Luke Paris, and Alyssa Forrester. Congratulations to this week's winners!
Congratulations to the Watervliet North School November Students of the Month. We are proud of you! Front: Brylee Walmer Maddie Layne Back: Meeyah Daughtery, Allaynah Hiler, Adam Combs, Annabelle Butler
ALL STUDENTS WILL PARTICIPATE!
North Elementary School held a Food Drive and collected 862 items for the Food Bank. Mrs. Brown's 3rd grade class brought in the most items and got to pie Principal Pline in the face this afternoon. Nice job, Panthers.
Please consider supporting our next blood drive!
Please come out and support the WHS Chapter of National Honor Society this Saturday Nov. 18th for a Pancake Breakfast in the High School Cafeteria running 9am -12pm. Orders are $7 a plate, dine in and pick up options are available. Click Here to Pre-Order for pickup. THANK YOU FOR YOUR SUPPORT of Watervliet High School NHS!
The Watervliet Middle School Interact Club will be making goody bags for a local senior center in the community. They are in need of donated items like: personal hygiene products(toothpaste, toothbrushes, deodorant, soap, etc.) and individually wrapped treats like candy and cookies. Interact will be assembling the goody bags on December 13th. They would love to have your donations to help out with the project. Anything you can donate should be delivered to the high school office. THANK YOU !
Congratulations to the Panther Volleyball Team on a spectacular season. The team is the Regional Runner-up and three-peat District Champion! The team will be graduating nine players who have had a major impact on Panther Volleyball's success over the past few years and they will certainly be missed next year. Great season, Ladies!
Our Panther Volleyball team will play in the Regional Final in Fennville at 6:00 PM today. Maroon and White is the theme of the day -- come dressed in your Panther Gear and cheer on the Lady Panthers as they take on Pewamo-Westphalia for the championship. GO PANTHERS!
The expected time for the WPS state champion marching band to arrive in Watervliet has been changed to 5:30 PM today. Let's line up along the streets to help us welcome them home today at 5:30.
The Watervliet Panther band is coming home this afternoon as champions after securing first place in its division at the state finals in Detroit this morning. Let's show these high school and middle school musicians our Panther Pride by lining the streets to welcome them back into town this afternoon. Please be out by the road on their return route by 4:30 PM. The band bus and escorts will travel from I-94 at M140 north into town and then turn toward the school at Red Arrow. Posters and congratulatory signs, horns, bells, clapping, and such are encouraged. Great job Panther Marching Band!
Congratulations to Gage McKie, Trevor Tavolacci, Christopher Parkhurst, and Dakoda Morrison on their fine performance at the MSVMA District 6 Tenor/Bass Invitational held at the Howard Performing Arts Center at Andrews University. The day consisted of rehearsals with conductor, Dr. Jacob Berglin, from Western Michigan University, and a culminating concert featuring a 70-voice invitational choir, and WMU vocal ensemble, Amphion, both conducted by Dr. Berglin. Great job!
Watervliet Panther Volleyball Faces off against Bangor in a contest for the District Championship this evening at 6:00 PM in Coloma. Come out and support our Lady Panthers! Tickets can be purchased at the gate using a credit card, debit card, or Apple Pay. Or buy tickets before you arrive at
www.gofan.co
(The ticket link is below.)
https://gofan.co/event/1172635?schoolId=MI3768
Come join us at Watervliet Middle School this Sunday starting at 8:00 AM for a free pancake breakfast. We'll be on hand to answer any questions you might have about the school facilities bond proposal on the November 7 ballot. Please be sure to note the new location -- we hope to see you at Watervliet Middle School on Sunday morning!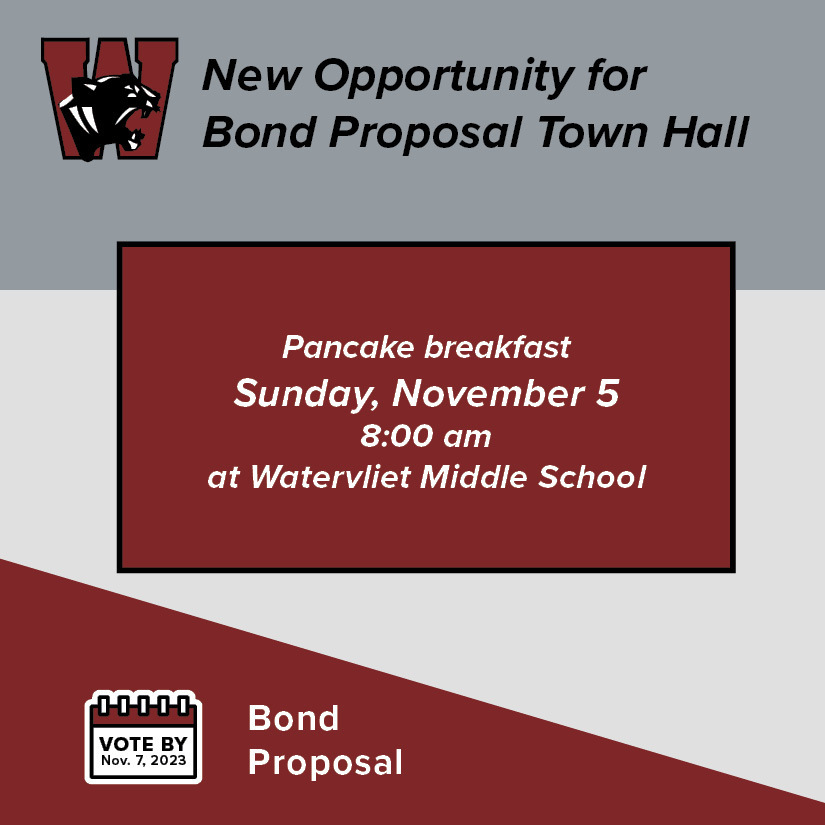 Wednesday, November 1st you'll have your next opportunity to attend a Town Hall Meeting to learn more about the WPS facilities project bond proposal. You'll also find us at the FREE pancake breakfast at the Watervliet Fire Station on Sunday, November 5. We look forward to seeing you and answering any questions you might have.
Come on out to the Watervliet Fire Station this Sunday starting at 8:00 AM for a free pancake breakfast. We'll be on hand to answer any questions you might have about the school facilities bond proposal on the November 7 ballot. We hope to see you there!
We invite you to come and enjoy the vocal talents of the Watervliet High School and Middle School choirs at their fall concert this Thursday evening at 7:00 PM.
Join us this evening and enjoy some great music as our WPS bands present their fall band concert in the high school auditorium at 7:00 PM.
On Saturday, October 21st The Watervliet Marching Band traveled to the Jenison Invitational. They received 1st place in flight 5 with a score of 76.8 and received awards for Best Music, Best Visual, Best General Effect, and Best Color Guard.