Students from six area schools, including Watervliet, work together to build robots. Together, they are the CW Robotarians, FRC Team #2959, and this past weekend they entered their first competition of the year at St. Joseph High School. Leading the team through cheers and dance, spirit captain Jaysen bolstered the team with true FIRST spirit, earning #2959 the Team Spirit Award.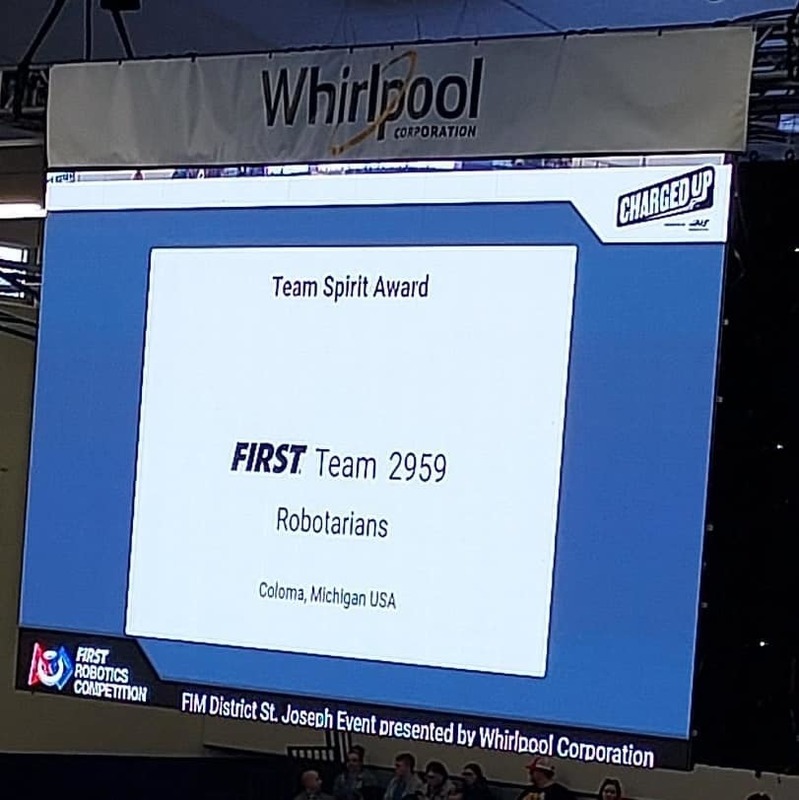 The brand new drive team adapted brilliantly to challenges, solving problems in and out of the pit. Freshman driver Kyle, with co-pilot Nathan L (W Jr) and human element Sam L, made the team proud while rapidly learning on the job.
The drive team was supported by data captain Jasmine, match strategist Gabriel R (W Fr), programmer Samuel D and pit lead Kaylie.
While the drive team was busy with the bot, Grant and Amelia were leading presentations to judges about all aspects of our team, with the support of the rest of the team including Chloe P (W Fr - safety co-captain), Ben R (W Fr), and Skyler B (W Fr) cheering and taking data.
Mentor Kevin R was one of the student-nominated Woodie Flowers award district finalists, celebrating effective communication in the art and science of engineering and design. These nominees advance to the state competition.
While team #2959 did not advance into the final rounds of this event, they learned a lot during the competition and took to enjoying the final rounds from the stands.

The team is now back hard at work improving the robot and presentations to get ready for next week's event at Grand Valley State University.